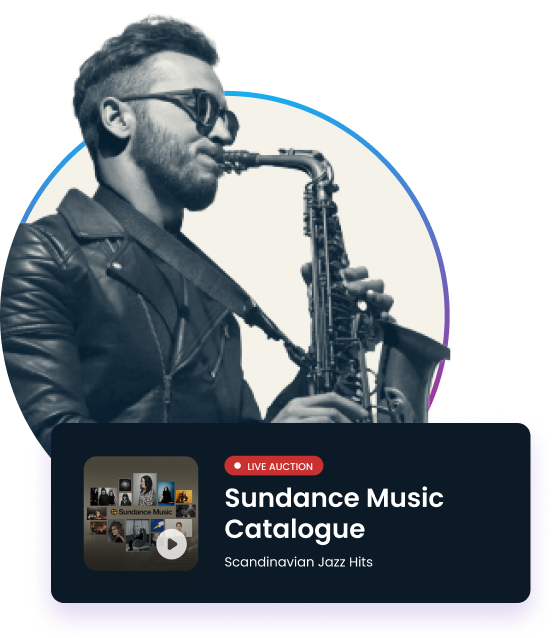 About the Listing:
Sundance Music ApS, in partnership with ANote Music, provides you with the opportunity to earn passive income from the digital royalty streams from Master Rights and Neighbouring Rights from the catalogue it produced and acquired since 1982.
Winning bids will offer investors the right to receive cash flows deriving both from the already-produced 4,500+ tracks included in the catalogue, as well as from new productions or songs that Sundance Music ApS will acquire throughout the deal horizon.
The listing gives exposure to a catalogue which has observed low volatility in recent years and is managed by one of Denmark's leading independent publishers. An opportunity not to be missed if you wish to unlock passive royalty streams from highly reputed jazz tracks produced in the last 40 years.
1
Who's the initial rights holder (Transferor)?
+
Sundance Music ApS is an independent Danish record and right's holding company for the Sundance and Stunt Records labels. Operating within the music industry since 1982 and based in Copenhagen, Denmark, Sundance Music has gained respectable success in the top of the international and Scandinavian charts, with a broad portfolio of well-established and new upcoming artists.

Over the years, with 40 years and 5000+ tracks of experience, the Stunt and Sundance names have been established as synonymous with the high quality and reputation associated only with the top Jazz labels of the world. Their international group of artists, employees and clientele are establishing Sundance as one of the strongest players in Scandinavia and Europe.
2
What are the major albums included in the catalogue?
+
'Swedish Ballads & More' and 'Danish Ballads & More' by Scott Hamilton, 'The best things in life' by Karin krogh & Scott Hamilton, 'Date With a Dream' by Malene Mortensen, 'The Sound of The Rhythm' by Jan Harbeck Quartet, 'Work it Out' by Ridin' Thumb, 'Feels like Home' by Inger Marie Gundersen, 'Keys & Strings' by jakob Dinesen and 'Tangerine Rhapsody' by Snorre Kirk & Stephen Riley.
3
What type of rights are included?
+
Master Rights:
The term Master Rights derives from "Master Record", an original finished sound recording that comes out of the sound studio and which can be played back, or reproduced. Master royalties generate from the sound recording (rather than the composition) from physical/download sales and streams. Artists make money from master recordings by selling their own recordings directly to their audience (for example, selling CDs at shows), or by using online aggregators to distribute their master recordings to platforms like iTunes, Spotify or Apple Music. They might also sign a deal with a record label, who will help produce the recordings and distribute them to the public. Traditional major label deals involve an artist signing away their Master Rights to a record label for a period of time, or the whole duration of the copyright. This means that any recordings made by the artist may be owned (partially) by the label – in return, the artist gets an advance on future royalties.

Neighbouring Rights:
These are royalties owed to the master copyright holder when their song is played in a different territory. Also called "related rights," Neighbouring Rights are similar to the Public Performance Rights associated with compositions, but they are paid to recording owners (usually labels) and performing artists, rather than songwriters and publishers. In the U.S., this is called a "digital performance" right and is only recognized for non-interactive digital transmissions, such as satellite and digital radio (e.g., Sirius XM and Pandora) - notably not for broadcast radio.
4
At what frequency will royalties be paid out?
+
Royalty payouts are expected to happen on a quarterly basis. ANote Music will be distributing the exact amounts straight to the investor's account and portfolio wallet. The standard fees are applied as is the case for other auctions: 4% when the rights have been acquired during primary market listings, 8% in the case they were traded on the secondary market. For more information on our fees, read more on the dedicated section on our platform.
5
How is the initial price of the asset determined?
+
As with any listing on the ANote Music platform, an in depth due diligence process has been executed by our team, carefully analysing and evaluating the historical track record and future roadmap for the catalogue. Following this and in agreement with the rights owner (Sundance Music ApS), the initial price has been determined based on the past 12 months average of generated royalties linked to the included rights and has been set at a multiple of 15.5x (over a listing term of the Life of Rights - up to 80 years as defined by the transferor).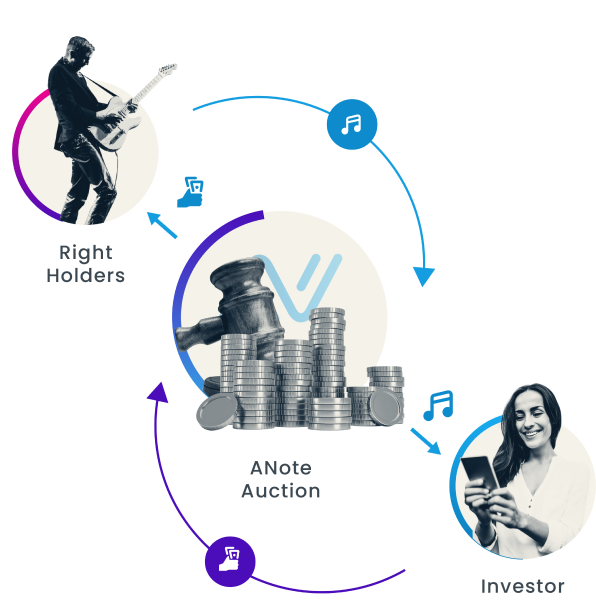 Music rights holders offer a portion of their rights up for auction. The catalogues undergo a full due diligence process, reviewing all historical data, contracts and future potentials before getting listed for auction.
You'll have access to clear charts and easy-to-understand tools, summaries of all necessary financial data and information. You can then decide to place bids during the auction phase and acquire fractional shares of music catalogues. Once the auction ends and your bids are successful, shares will be distributed to your portfolio. The shares become instantly tradable on the secondary market.
Each time royalties are being paid out, you'll receive the funds, pro-rata to the percentage of the catalogue owned, straight to your account.